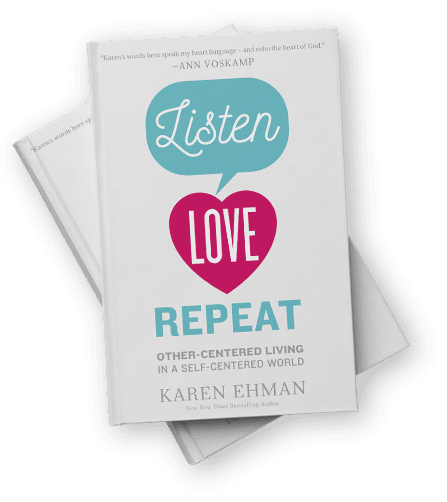 Bible Study will resume Monday, September 9th at 9:30 AM
in Yankton Community Fellowship Sanctuary.
Learn how to spread JOY, LIGHT AND KINDNESS, to a world that is seeking these traits.
In a culture saturated and obsessed with self, Listen Love Repeat inspires readers to embrace backwards living by finding true joy through intentional acts of kindness. Providing practical tips and encouragement, Karen Ehman inspires us to live alert and to be on the lookout in conversations with others for hints of what kindness we might show them.
There are many opportunities for women to participate at YCF.
Every Monday from 9:30 AM – 11:30 AM the ladies Bible study meets at the church.
Keep your eyes open for announcements of upcoming activities such as: Dinner & Movie, Craft Nights, Breakfast or Lunch Outings, and Game Nights.
Women's Ministries also offers the Annual Women's Retreat. This retreat takes place the second or third weekend in September.
Check the church calendar of events for more details.
Linda Schuck, Women's Ministry Leader
Email:  awschuck@comcast.net
Phone: 503-397-6861
Adult & Children's Sunday School
NO ADULT/CHILDREN'S SUNDAY SCHOOL DURING SUMMER
Sunday Service
SUNDAY - 10:00 AM
Recovery fellowship
MONDAY - 7:00 PM
Mail
ycfoffice1@gmail.com
Address
33579 Pittsburg Rd.
PO Box 1777 Saint Helens,
OR 97051